You can make sub-directories in the upload directory, and move files into them. At the same time, this plugin modifies the URLs/path names in the database. Also an alternative file-selector is added in the editing post/page screen, so you can pick up media files from the subfolders easily.
(Documentation)
(English)Media_File_Manager_manual_en_120110.pdf
(Japanese)Media_File_Manager_manual_120110.pdf
(Known issues)
Some users say databases are not modified. See limitations below.
(Limitaions)
You cannot delete, overwrite/replace items. To delete items, use the standard media manager.
Media file manager cannot modify paths/URLs in another plugin's own tables/records in the database.
Relative paths in articles cannot be changed.
Modified URLs in articles cannot be changed. For example, adding or removing 'www' causes problems.
This plugin does not work in PHP safe mode.
(Screenshots)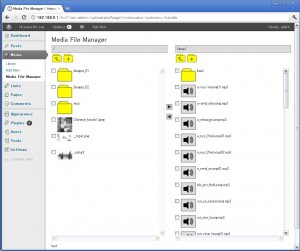 You can make directory, move, and rename in this screen.